Topic
Seamounts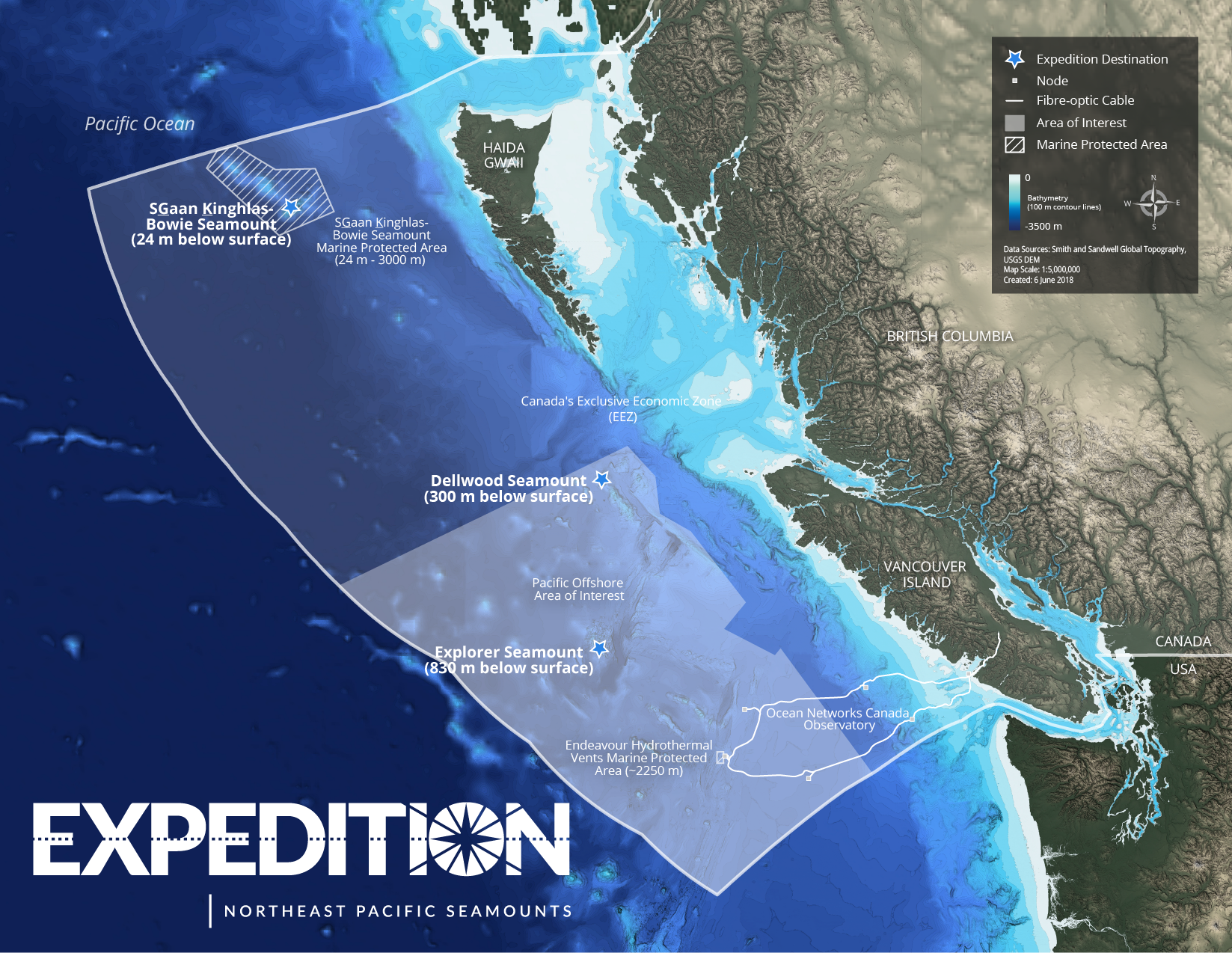 Surveying Three Unexplored Northeast Pacific Seamounts
From July 5-21, 2018, E/V Nautilus is collaborating with the Haida Nation, Fisheries and Oceans Canada, Oceana Canada, and Ocean Networks Canada to embark on an expedition to explore seamounts near the islands of Haida Gwaii in the northeast Pacific Ocean off the coast of British Columbia.
The Northeast Pacific Seamount Expedition will help these collaborative partners collect information that can be used to make decisions on how to manage and protect seamounts, which are little-understood ocean biodiversity hotspots. The expedition team will spend 16 days on board Ocean Exploration Trust's state-of-the-art vessel, Nautilus, equipped with two remotely operated vehicles (ROVs) Hercules and Argus, and a multibeam echosounder used for seafloor mapping.
All known seamounts located in Canadian waters are found off the coast of British Columbia, near the islands of Haida Gwaii. This expedition will survey three of them: SGaan Kinghlas-Bowie, Dellwood and Explorer.
The expedition will provide baseline data for scientific monitoring and research. The ROVs will install long-term ocean monitoring instruments on Dellwood and collect scientific data and samples as well as establishing monitoring sites on all three surveyed seamounts. In addition, high-definition video will be captured by the ROVs and streamed in real time online to share with the world.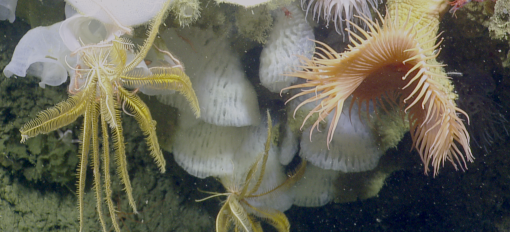 Credit
Ocean Exploration Trust
Seamounts As Biodiversity Hotspots
Seamounts are internationally recognized as critical for healthy oceans. Seamounts provide important habitat for a range of marine species, including fish, whales and other marine mammals, species that coastal communities depend on as a source of food and for their social, cultural, and economic value.
Seamounts –underwater mountains that rise above 1,000 meters (3,280 feet) tall from the seafloor– are offshore biodiversity hotspots, providing a highly structured environment on which corals and sponges can grow. Corals and sponges are refuges, breeding and foraging habitats for diverse species including fishes such as rockfish, sablefish and halibut. Supporting an oasis of life, seamounts serve as important stopovers for transient species, such as tuna, marine mammals, sea birds, and sharks.
Despite their offshore location, seamounts are vulnerable to some current and emerging practices, such as bottom-contact fishing and deep-sea mining. Scientific surveys will further our understanding of these ecosystems, helping to put the right protection in place, ensuring healthy oceans for all who rely on them.
Seamounts were largely unknown to science until the 1980s. Only a small percentage of seamounts have been mapped, but scientists estimate that the Pacific Ocean alone contains 30,000 to 50,000 seamounts. Despite the large number of seamounts, the number of scientific studies on them has only recently started to increase, and it is revealing just how important they are.
Within Canada, 93% of known seamounts are within conservation areas with 87% within an Area of Interest located off the coast of British Columbia, intended to become Canada's largest Marine Protected Area. More research is needed to better understand this critical marine habitat and support more permanent protection measures such as the creation of a Marine Protected Area.
Learn more about this expedition on the Northeast Pacific Seamount Expedition partners website.